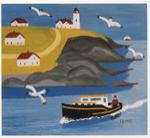 Lobster Fishing ML 341C is now available as a much smaller pattern ML341B. An adaptation of this pattern, which is even smaller, is available as ML341A.
The ML347 Cape Forchu Lighthouse pattern is now available.
We have brought back our Yellow Birds trivet and our ML339A Logging pattern.

New patterns include ML307D Black Cat, ML312R/S Yellow Bird, ML378 Fluffy, ML379 Coasters and Trivets (6 coasters and 2 trivets), ML368 Four Coasters, ML312/13 Birds Trivets ( 2 yellow birds and 2 humming birds), and there will be new additions in the coming months.
View our range of patterns
PATTERNS